Hiking Routes
The best hiking routes in the Euganean Hills close to our farm.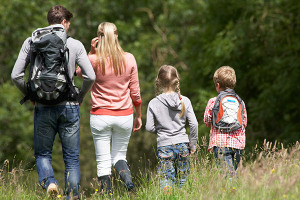 There is no better way to discover the Euganean Hills than   to take its walking routes. These attractive itineraries, full of inspiration, will allow you to learn about the variety of flora and fauna in the woods and see the remains of trenches and forts built during World War II.
A large number of routes will take you through the hills to admire the surrounding geological environment, offering views of unique features and rows of vineyards, only interrupted by fog, which at some points creates a mysterious landscape.
For example, on the slopes of Monte Venda, you can find the ruins of the ancient Monastero degli Olivetani (Olivetan Monastery). If you take these routes in autumn, you will be enchanted by the special colours of the hill in this period. In the north-west area of the Euganean Hills, below Monte della Madonna, you can do some beautiful walks in spring and be charmed by cherry trees in blossom and ancient mule tracks dotted along the route, used only by bikers.
One of the hikes we recommend goes through the Euganean Hills Regional Park. It is 6 or 7 kilometres long, with a difference in altitude of 200 metres. It is not recommended in the hottest months of the year. The route starts in Baone, in the southern part of the Euganean Hills and allows you to admire the medieval castle at the top of Monte Cecilia. It is just 199 metres high but offers plenty of breathtaking views, also described by the poet Francesco Petrarch.
Exciting landscapes and a variety of views, the Euganean Hills are the ideal destination for those who love hiking in the hills and for those interested in a stay based on history, culture and plenty of good food!