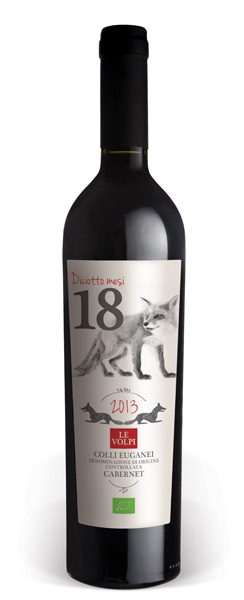 18 MESI – Colli Euganei Cabernet DOC
Name: 18 MESI
Strength: 14 % vol.
Serv. Temp.: 16°-18°
Capacity: 750 ml e
Wine varietal: 60% Cabernet Sauvignon, 40% Cabernet Franc
Management Wine: organic
Match: barbecued red meats and medium-aged cheeses
Glass: full-bodied, mature wines
Average data: sugars 2 g/l, total acidity 5,2 g/l
Features
This red wine is made from organic Cabernet Sauvignon and Cabernet Franc grapes grown in our vineyards, in the heart of the Euganean Hills. After vinification, carried out by the traditional method, the wine is aged for 18 months in French oak barriques and casks. The wine is bright red in colour, with a complex, fully developed and persistent aroma, and hints of ripe fruit, plums, marasca cherry and jam. On the palate, it is dry, tangy, smooth and warm, with distinct tannins mellowed by its transfer to barriques. It has an elegantly spicy and persistent aftertaste.