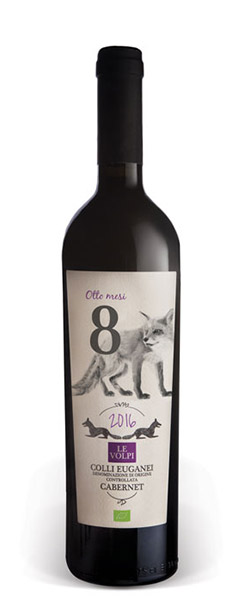 8 MESI – Colli Euganei Cabernet DOC
Name: 8 MESI
Strength: 13,5 % vol.
Serv. Temp.: 14°-16°
Capacity: 750 ml e
Wine varietal: 60% Cabernet Sauvignon, 40% Cabernet Franc
Management Wine: organic
Match: fresh charcuterie, aged cheeses and grilled meat
Glass: young red wines
Average data: sugars 3,5 g/l, total acidity 4,9 g/l
Features
After traditional fermentation and aging in steel tanks for approximately eight months, the wine has a vivid ruby red colour and a tightly knit texture. The nose offers scents of red berries and clear notes of cherry and strawberry preserves. In the mouth, it is balanced and clean, while the aroma has fruity notes and the aftertaste is pleasantly grassy, full flavoured and lingering.