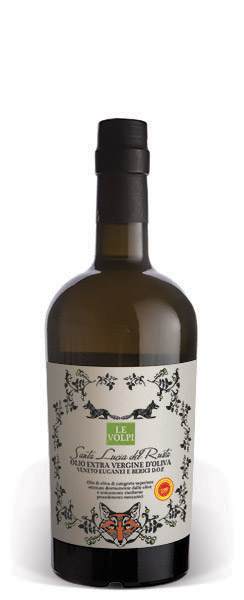 Santa Lucia del Rusta – Extra-Virgin Olive Oil 0,50 litres
Name: Santa Lucia del Rusta
Volume: 500 ml
Acidity: ≤ 0,2%
Production area: Baone, Colli Euganei
Olive varieties: Frantoio, Leccino, Rasara, Pendolino, Rondella.
Harvest: olives are hand-picked between october and november
Squeezing out: performed exclusively by means of cold mechanical pressing using an olive-press on site. The olives are pressed within four hours of harvesting.
Match: excellent raw, boiled and with risotto
Features
Extra-Virgin Olive Oil produced exclusively with olives harvested on our estate. This oil is made by immediately pressing the best olives, which are picked by hand between October and November. The temperature of the oil is carefully monitored during cold pressing to ensure that it never exceeds 27° C. The oil has a rich golden yellow colour with greenish highlights. It offers a vibrant, fruity aroma with notes of almond. In the mouth, it is full-bodied and sweet, with a pleasing, piquant finish.

Related Products