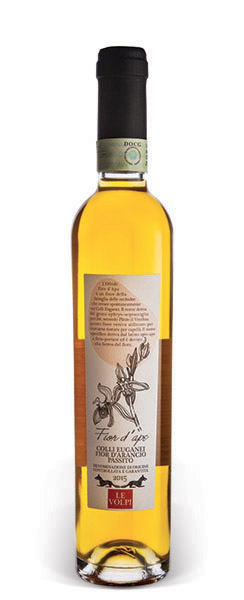 FIOR D'APE – Colli Euganei Fior D'Arancio Passito DOCG
Name: Fior d'Ape Passito
Strength: 13 % vol.
Serv. Temp.: 14°-16°
Capacity: 375 ml e
Wine varietal: 100% Moscato Giallo
Management Wine: organic
Match: elegant pastries and blue cheeses
Glass: sweet wines and straw wines
Average data: sugars 120 g/l, total acidity 6,4 g/l
Features
This raisin wine was made from Moscato Giallo (yellow Muscat) grapes, harvested in our vineyards when fully ripe and subsequently placed in crates to dry. Vinification takes place in late winter. A long period of aging in barriques gives the wine its intense aroma with hints of ripe fruit, honey, orange blossom, candied citrus fruits and sweet spices, with a velvety taste. This classic wine pairs well with desserts and is the perfect "meditation" wine.