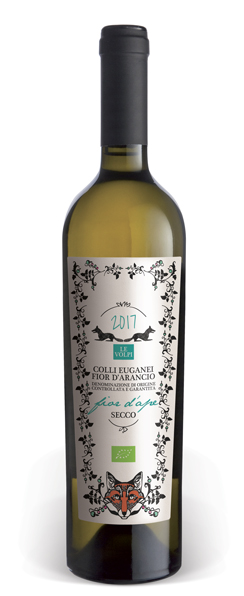 Fior d'Ape Secco – Colli Euganei Fior D'Arancio "Secco" DOCG
Name: Fior d'Ape Secco
Strength: 13 % vol.
Serv. Temp.: 10°-12°
Capacity: 750 ml e
Wine varietal: 100% Moscato Giallo
Management Wine: organic
Match: raw fish dishes, asparagus and egg, and vegetarian dishes
Glass: young, fresh white wines
Average data: sugars 3 g/l, total acidity 5,5 g/l
Features
This white wine is made from organic Moscato Giallo grapes, a variety with bright straw-coloured berries, thick skins and crunchy flesh, cultivated in our vineyards. The unique soil, which contains sand formed from volcanic rock (trachyte), and the favourable microclimate with south-eastern exposure lead to a high-quality harvest. A straw-yellow wine with vivid highlights, it offers intense, complex aromatic scents, with floral notes of roses and white flowers, as well as notes of citrus and tropical fruits, broom and acacia, closing with hints of cedar. The flavour is dry, delicate and balanced, with well-defined freshness and minerality. The aftertaste is in keeping with the nose, closing with good length on a fruity note.