Le Volpi Farm

Passionate about cuisine, fine wine and our land

Respect for the region and its time-honoured traditions

Fine wines and extra-virgin olive oil

The tradition of fine wine from the Euganean Hills

ORGANIC-VEGAN production certified by ICEA

Completely immersed in nature

A journey through nature's splendour

Production of extra-virgin olive oil

Obtained solely by mechanical means
Le Volpi Farm
Agritourism, B&B service, production of wine and oil in the heart of the Euganean Hills.
Le Volpi Farm is nestled in the heart of the Euganean Hills.
Established by the Rossi Luciani family, who have an ardent enthusiasm and affection for their land, the farm has become one of the most notable new wine producers in the region. It is a place where tradition and innovation come together to create a new way of living, immersed in nature and steeped in taste.
The Euganean Hills are an island of nature protected by a regional park. The hills offer their bounty throughout the year, providing woodland berries, cherries, strawberries, blackberries, jujubes, pomegranates, figs, delicate wild herbs, grapes and fine honey. Those who explore the Euganean Hills Wine Route discover a paradise for food and wine enthusiasts, a land where local wines and traditions are combined with the finest seasonal products from vegetable gardens, fields, farmyards and vineyards.
Focusing on the best products that the hills have to offer, Le Volpi began its history with vineyards and olive groves – a unique combination that has led to the creation of remarkable products of exceptional quality. The grapevine is the queen of the land, while the olive tree is the prince. The Veneto hills have always provided the ideal conditions for both of these plants to thrive. Under the passionate, patient care of Le Volpi Farm, they offer fruits that are transformed into a variety of wines and oils. While each has its own unique aroma, colour, and flavour, they all reflect the land where they are grown. Le Volpi has created an environment that complements and enhances meals, and offers a unique taste experience. The Euganean Hills provide an incomparable backdrop. An area of Veneto that is always green, the hills are at their best every season of the year, offering vibrant colours and picturesque views every moment of the day and arousing powerful emotions.

We ship
our products
throughout Europe
Organic – Vegan Wine
Le Volpi Farm has produced since 2013 organic wine and vegan wine since 2016,
with production that is certified ORGANIC and VEGAN by ICEA, the Ethical and Environmental Certification Institute.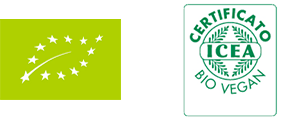 We are open the whole year:
come and visit the wine cellar and taste our products.